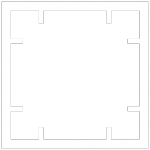 Seamless flooring
Our seamless flooring solutions are based on a range of thermoplastic coatings. This type of flooring is used in settings where there are stringent hygiene and the environmental requirements.
There are three main bases used in thermoplastic flooring:
Acrylic
Polyurethane
Epoxy
Each one of these has its own unique characteristics. But they all offer the advantages of a better working environment, as well as being easy to clean and non-slip. In general, these coatings have great potential to be adapted to meet the user's requirements.
From the pharmaceuticals industry to car parks
The hygienic qualities of thermoplastics mean that thermoplastic flooring is commonly found in settings where there are stringent requirements on cleanliness, such as in the food production and pharmaceuticals industries. Car parks are another key area of use, as thermoplastics protect floor surfaces from salt and water that is pressed into the ground and which damages concrete. Other advantages that thermoplastics offer are a better environment in these spaces, and the possibility to design the floor. The coverings can be ordered in different colours and shades, and also with a particular structure.
We work with all leading thermoplastics systems.
Linotol has a comprehensive specialist competence in thermoplastics, giving us great potential for adapting our flooring production and resources to meet client-specific needs. We can install up to 3,500 m² of completed flooring per week. We work with all of the leading thermoplastics suppliers and choose what will work best for each individual user.