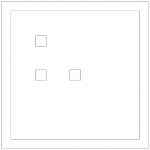 Design flooring
We use the term "design flooring" to refer to diamond polishing – also known as HTC Superfloor surfaces – and design fillers – fillers where the mortar has been pigmented in order to then be varnished or polished.
Our work always begins with an inspection of the existing surface, to see if it is of a high enough quality to allow design flooring. Some surfaces may have small dips that need filling, whereas others simply need dusting. Some may require repairing and grouting. In some cases the surface may not be of the right quality for design fillers or diamond polishing, in which case we can discuss alternative solutions, such as a thermoplastic coating. If the concrete is too worn or dirty it may be more economical to tear it up and place new concrete.
Timing is crucial for surfaces in use
Where design flooring is concerned, the surface in question is often already in use, so it may not be possible to temporarily close or move operations, nor to bring in craftsmen who could prove to be a disturbance. Linotol regularly works on projects where work surfaces are only accessible at certain times during the day or week. We can mobilise a large selection of effective machinery, including diamond polishing machines, allowing us to complete large surfaces in a short space of time. Where grinding and polishing are concerned, we can complete up to 500 m² per day, and where liquid fillers are concerned – up to 2,000 m² per week.